Organized By
Council of Canadians – Guelph Chapter
Organization
Council of Canadians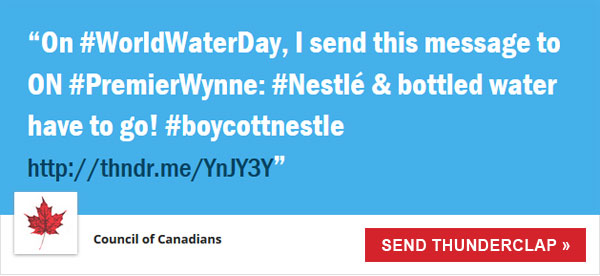 In January, the Ontario government announced it would raise the fees that bottled water companies like Nestlé pay to pump out millions of litres of groundwater every day.
The new fee? One-twentieth of a penny per litre!
This new fee is clearly not going to protect vulnerable groundwater sources from being exploited and wasted as single use, disposable bottled water.
That's why I need your help to tell the Wynne government to phase out bottled water permits for good. Ontario communities should not have to wait in line behind megacorporations like Nestlé. Droughts due to climate change, pollution and increased development are all putting our aquifers under increased threat. Water must be kept in local watersheds for community use and for future generations.
If you have a Facebook, Twitter or Tumblr account, please sign up to send a Thunderclap message on social media on World Water Day, March 22.

Thunderclap is a service that enables you and others to share the same message at the same time.
It is time to stop Nestlé from profiting from water.